Winners of the 2016 Profiles in Achievement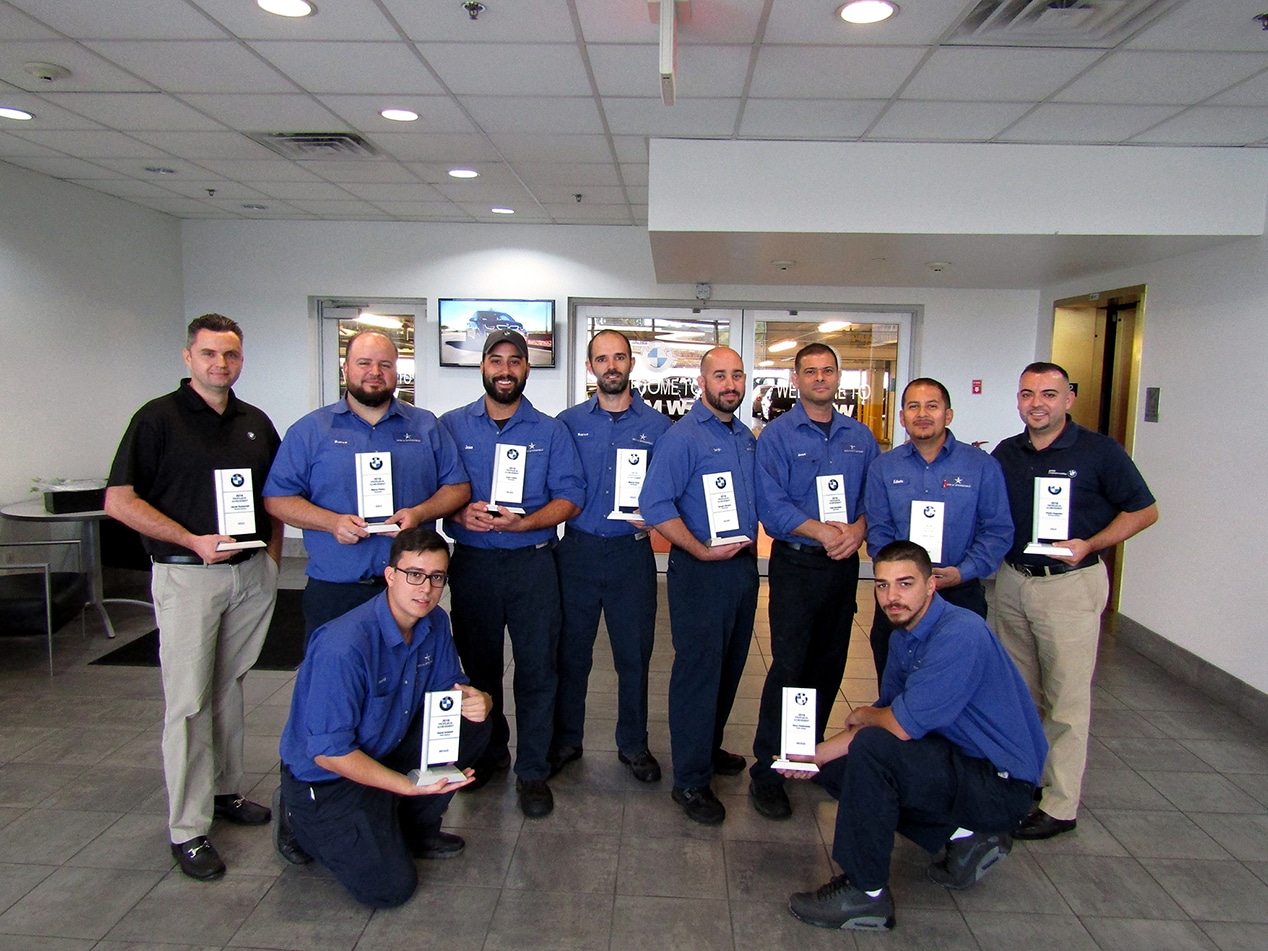 Winners: Jacob Kolasinski, Marco Pinho, Jose Lopes, Marco Cruz, Sergio Oliveira, Jose Gonzalez, Edwin Duran, Paulo Augusto, David Aristich, Marc Dealmeida, Gabriel Coelho & Piotr Leszczak.
BMW of Springfield POS Award for Aftersales Marketing Excellence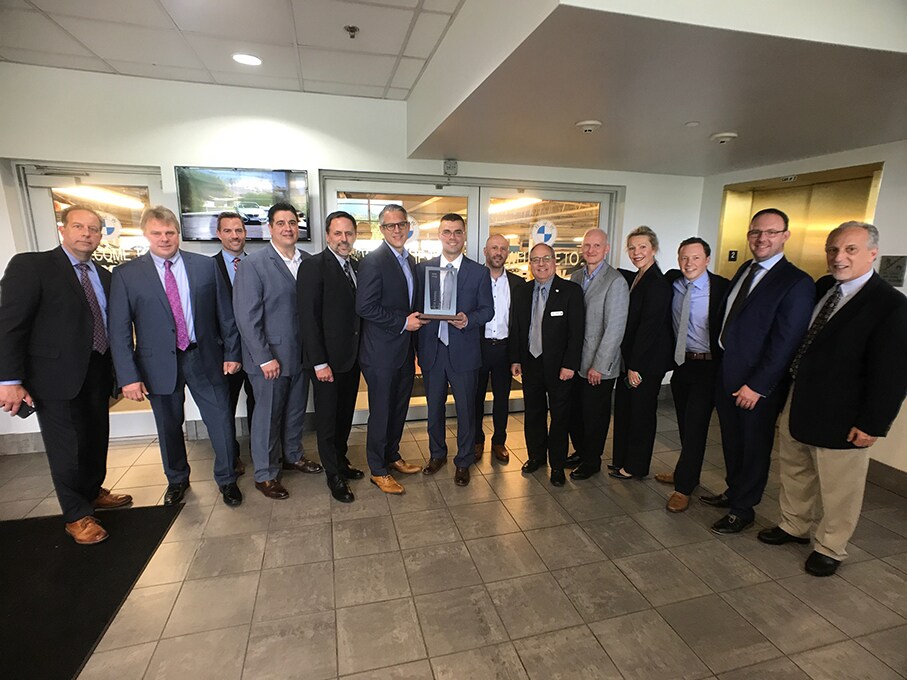 BMW Corporate presents our own GM Matt Bibbo & our Parts Director Pedro Santos with the POS Award for Aftersales Marketing Excellence.


  BMW of Springfield One Year Anniversary
The BMW of Springfield​ team comes together to celebrate our 1 Year Anniversary!
BMW of Springfield's Green Initiative
At BMW of Springfield we care about the environment. Our BMW building was built with energy efficiency in mind.
Our​ BMW building uses UV resistant glass which is highly tinted to reduce heat gain thus reducing our energy usage in the summer months
97% of the lighting fixtures throughout the building are Compact Florescent light fixtures (CFL)
Our two decks (50,000 square feet) utilize energy efficient lighting and are controlled by motion sensors and timers.
Many rooms and offices are controlled by motion sensors and timers.
Our entire HVAC and lighting system is controlled via a pc based system which uses remote temperature sensors and light sensors to turn on and off lighting and HVAC.
High speed garage doors have been installed in 3 of our buildings. These high speed doors allow vehicles to enter and exit quicker, thus allowing less heat or A/C loss and reducing our energy usage.
Our Latest green initiative.
Roof Top - BMW of Springfield of Springfield NJ is happy to announce that we have expanded once again. Earlier this year BMW of Springfield NJ, completed construction of a 3rd level parking area to our existing parking deck. This third level holds 72 cars and utilizes the latest energy savings technology with respect to lighting. Using a combination of LED and CFL light fixtures, BMW of Springfield was able to attain the same light levels on the new deck using 8 LED and CFL fixtures instead of using 20 Metal Halide fixtures. This will result in an energy savings of about 70% over standard, old technology lighting.
BMW of Springfield Hosts the New Jersey chapter of the BMW Car Club of America
On Wednesday Oct 22nd BMW of Springfield was once again honored to host the NJ chapter of the BMW car Club of America. BMW of Springfield and the NJ Chapter of the BMW CCA has been a long standing relationship that spans over two decades.
This month's meeting saw the introduction of one of BMW's most exciting new cars, the BMi i8 and BMW i3. Over 80 attendees and speakers poured over these new BMWs with curiosity, with the BMW i8 getting the bulk of attention. But the BMW i3 had its fair share of admirers as well. In fact BMW of Springfield introduced to the BMW CCA the BMW i3 extended test drive program. A program that allows BMW drivers; and would be owners the chance to take an i3 home for up to three days to see how the BMW i3 fits their needs and lifestyle. Five extended test drives were booked on this day. A huge success in our book.
The rest of the night's meeting was spent with the group discussing upcoming events, club minutes, and the big announcement that 2015 the BMW Car Club's annual Oktoberfest gathering will be held in New Jersey.
Centered on the NJ Motorsports park complex, throngs of BMW fans will decent on Mellville NJ to do what we do best, discuss all things BMW and enjoy many driving events. More details on this huge annual gathering will be forthcoming. We're planning on attending this largest gathering of BMW cars next year and look forward to not only seeing our BMW customers and friends but also making new friends from around the country.
BMW of Springfield Boutique
BMW of Springfield NJ is now showcasing their new boutique.​
The new updated displays showcase the latest BMW gear & apparel now available. BMW enthusiast can now come in and browse out BMW Lifestyle products & Accessories first hand.
While you are waiting for service, finance or shopping for car, grab a cup of coffee from our breakfast cafe and stop by our BMW boutique and we will show you how to upgrade your BMW Lifestyle.
Congratulations to an exceptional staff !

BMW of Springfield in Springfield, NJ is proud to congradulate our New BMW Sales Team on winning the "BELT of Champions. The award is provided to the team with the leading sales for the month in each market.

The Sales Teams at BMW of Springfield works hard every day to not only provide the best quality vehicles to our customers but also the best quality service. This award is a great reminder of the hard work and professionalism our staff brings to the job each and every day.

We would also like to extend our thanks to all of our loyal customers who have been our support through the years. BMW of Springfield knows that without your loyalty and patronage BMW of Springfield would not have been able to achieve this success. We appreciate your continued support and business.

Thanks should also be given to all of our new or first time clients. We know there are many choices out there, and we are glad to call you part of the BMW of Springfield Family!
BMW of Springfield Active E Center
Ground breaking news, BMW's Active E Center of New Jersey BMW of Springfield of NJ has sold and delivered the FIRST Active E - Electric car in the USA. BMW history has been made by the BMW of Springfield Family of New Jersey an authorized BMW's Active E Center.Special thanks to BMW of Springfield Senior Client Advisor and our BMW Electric car expert Manny Antunes of BMW of Springfield of Springfield, NJ. We also want to thank and wish many fun rides to the new Active E car lease owners Mr. & Mrs. Moloughney of New Jersey.
To learn more about BMW's Active E Electric car's and answer any questions you may have about BMW Electric cars, contact BMW of Springfield's expert advisor Manny Antunes at 973-379-7744 ext 258 or visit www.bmwusa.com/ActiveE. BMW Introduced the BMW ActiveE car two years ago as a concept car.BMW gives us a glimpse of the future - the near future. And now today, a reality BMW of Springfield sold and delivered the first 2011 BMW ActiveE car on January 13, 2011.
The BMW Active E car is a great move towards an emissions-free future for personal transportation. The next logical step in BMW's Efficient Dynamics philosophy, the all-electric BMW ActiveE boasts zero emissions as well as the sophistication, driving characteristics, luxury and performance of a BMW.